Engaging Family Adventures on Land and Sea
Our Family Safari is a land and sea excursion that we have created to provide your family with an opportunity to engage in fun activities together, form stronger bonds, and develop a fondness for the incredible flora and fauna of the Galapagos. As parents, these islands have taught us the significance of seizing each day and creating enduring memories with our beloved family members.
We are a small and experienced team in family travel, having raised our own children on the Galapagos Islands over the years. As a result, we have the expertise to design engaging, educational, and enjoyable experiences that are suitable for different age groups. With our flexible schedules, private land tours, and personalized itineraries, families can explore the islands at their own pace and based on their unique preferences and requirements.
Our Kid's Club offers a variety of creative activities for younger children during school holidays.
We are aware that the Galapagos Islands is a once in a lifetime adventure for many families. This is a responsibility we take seriously and are committed to achieving the best possible outcome. What was the last time you and your family experienced something new? Carpe Diem!
from 

$5,980

 per person
Sample Family Safari: Full Itinerary
Our Family Safaris were created with years of experience in hosting, living and travelling on the Galapagos Islands. They include wildlife tours, activities on Santa Cruz Island, as well as day trips by boat to uninhabited islands nearby. We create tailor-made itineraries that will change the lives of everyone in your family, including grandparents, parents, and teenagers.
Craft your very own Galapagos family adventure!
The itinerary we provide is just an example. To learn more about the tours, activities, and experiences we offer, and to find out how we can customize them to best fit the needs and interests of your children and family members, please get in touch with one of our Safari Designers.
Day 1: Santa Cruz Island: The Highlands and The Giant Tortoise
Galapagos is your home! You will meet your English-speaking naturalist guide after you leave the VIP airport lounge. He will stay with your family during your time with us, depending on the privacy level chosen.
You will visit a variety of sites along the way to Galapagos Safari Camp in order to maximize your first day on the Galapagos Islands. Who will spot a land Iguana on the short drive between the airport and Baltra Island ferry terminal?
Following a short water crossing from Baltra Island to Santa Cruz, you will be driven to the highlands of Santa Cruz and make a stop at Los Gemelos, which are two huge volcanic sinkholes. During a leisurely walk around the rim, your guide will identify endemic bird species like Galapagos doves and Darwin's finches that are found in the Scalesia forest.
Next, you will head to a reserve that is home to giant tortoises. The tour of the reserve involves following an easy trail where you can observe these iconic creatures of the Galapagos from a few meters away.
The tortoise reserve also contains a network of underground lava tubes, formed centuries ago when lava flows cooled at the edges but kept flowing in the middle, leaving cave-like tunnels in their wake. To fully appreciate the uniqueness of the Galapagos Islands, and its wildlife, it's important to first understand the archipelago's geology and volcanic history. Keep a look out too for short-eared owls, as they are occasionally spotted in the trees.
Conclude your day at Galapagos Safari Camp by providing children with the opportunity to engage in various activities such as walking or biking around our 50-hectare farm, picking tropical fruits, harvesting cacao, or taking a swim in our small pool. Alternatively, parents can relax on our observation deck, order a cocktail, and watch the sunset over the National Park and the distant Pacific Ocean islands.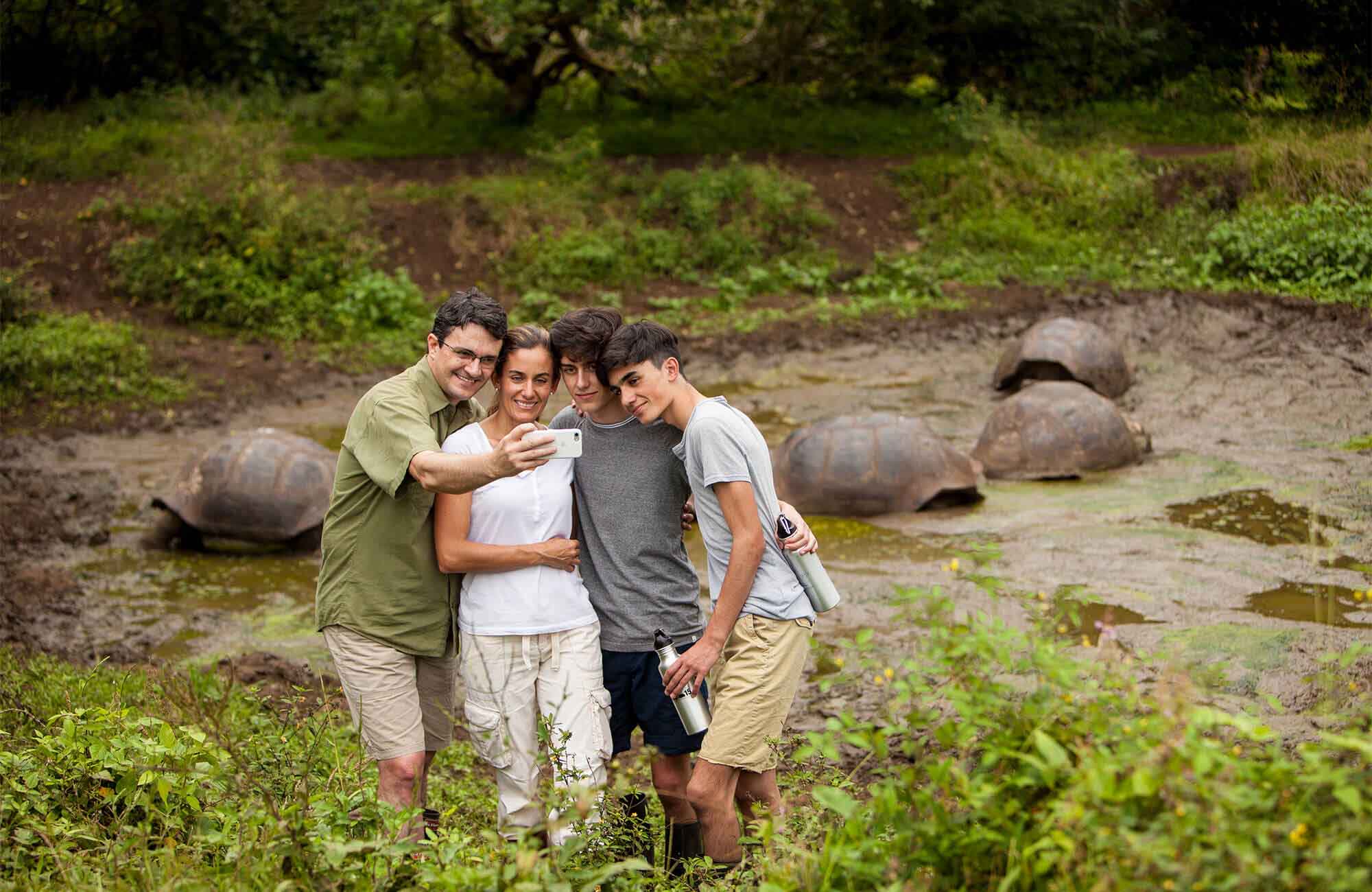 The Camp hosts a relaxing evening where parents can take a private art class with a local artist.

Day 2: Santa Cruz Island: The East
We will be taking a short stroll through the wetlands this morning as we travel to the huge Cerro Mea crater. A wonderful range of birds can be found in the Cerro Mesa Reserve, as well as the occasional bathing tortoise. The tour ends at a viewpoint where you can see the lush Santa Cruz Island landscape and other neighboring islands from a clear day.
Following our visit to the giant tortoise reserve, we will take a bike ride downhill to Garrapatero beach. Unlike other beaches that are crowded with cruise ship visitors, Garrapatero beach is secluded and perfect for a relaxing picnic. Additionally, families can explore the mangroves and the diverse wildlife through kayaking, which can be arranged at the beach.
A tiny lake, located just behind the beach, is sometimes observed with flamingos.
You can stop at an organic coffee plantation on the way back. Children have the opportunity to pick coffee beans if it is available. Also, learn about small-scale responsible family farming in the Galapagos.
Day 3: At Sea: Explore An Uninhabited Island
Today, you will take a motor boat day cruise to one of the neighboring uninhabited islands close to Santa Cruz, such as North Seymour, Bartolomé, Plazas or Santa Fe. The tours of these islands involve a guided walk and a guided snorkel in the Galapagos Marine Reserve. Lunch will be served on the boat, as bringing food into the National Park is not allowed.
These boat tours are often arranged as a shared excursion (shared boat, shared guide). We can arrange for your private guide, however. We can charter a boat for you and your family if you prefer a private tour.
Galapagos Safari Camp will welcome you back at the end of your day.
Day 4: At Sea: Family Fishing Adventure
The private fishing adventure is both a wildlife adventure as well as a cultural exchange opportunity. It's a popular choice among families.
You can rent a modern speedboat from local fishermen, which is considered safe for your day trip. Your guide will act as a translator as the fishermen share stories of their life at sea, and your children can learn some local fishing tips. If you're fortunate, you might even catch a tuna and the fishermen can prepare sashimi for your lunch.
You will also have the opportunity to snorkel with a guide and explore a remote bay. You can either stroll along the beach or take a dip in the bay's turquoise waters.
Your guide can adapt the day to suit your needs if you prefer to limit the fishing or enhance your snorkelling and beach experience.
To learn more about this day, please refer to the section titled 'FISHING'.
Later in the day, once you return to the Galapagos Safari Camp, you will have the opportunity to take a leisurely stroll, swim in the pool and unwind before dinner.
Day 5: Santa Cruz Island: Charles Darwin Research Station and Bay Tour
After a leisurely breakfast we visit the Charles Darwin Research Station as well as the Tortoise Breeding Centre, to learn more about conservation efforts on the islands and scientific research.
Children will get to meet the tortoises, the island's namesake. While parents can wander around Puerto Ayora on their own, your guide will take the children on a tour to the local fish market or to a playground.
After lunch, you can walk or take a speedboat down to Tortuga Bay. This white sandy beach is home to basking marine iguanas as well as shallow turquoise waters filled with fish and white-tip reef sharks. You can also join a boat for snorkeling, which will allow you to play with sea lions.
Day 6: Relax Before Morning Departure
This morning, enjoy the tranquility and peace of Camp. Before you leave for your next destination, relax, walk, or swim from our viewpoint. Here's where you will wish you could have extended your trip! ).
This is just an example of some of the options. We would love to create your dream journey together!